Behind every great dental practice is an exceptional team: That is definitely true at Bethesda Chevy Chase Advanced Dentistry! Here, we strive to create confident smiles, and provide the highest quality of care in a comfortable environment.
Our team members are committed to offering each patient an exceptional dental experience. They stay current on the most effective procedures, use the only best equipment and materials, and adhere strictly to treatment guidelines.
Each team member's participation in continuing professional education ensures patients receive the most effective treatments, delivered through the most comfortable and efficient methods, in a safe, supportive, and welcoming office.
We are pleased to welcome you and your family, and we look forward to working with you.
---
Telia
Dental Assistant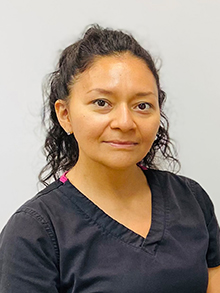 With a passion for the dental industry and more than a dozen years of experience, Telia is responsible for providing our patients with high-quality care by performing a variety of office, laboratory, and patient care duties. Her job involves a variety of healthcare tasks, from taking dental X-rays and caring for patients, to helping file records and appointment scheduling. For Telia, the most meaningful part of her job is meeting new people from many places and building connections that last for generations, all while helping to keep them safe and comfortable.
In her spare time, Telia enjoys reading, yoga, and spending time with her friends and family, which includes her three kids and two dogs.
---
Amanda
Patient Coordinator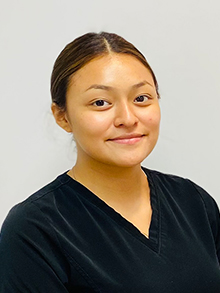 Amanda began working in the dental field as a front desk receptionist in 2020. Now, as a patient coordinator, she takes care of dental charting and treatment planning, as well as coordinating appointments and insurance coverage. She is excited every day she comes to work, knowing she'll be able to meet new people and continue relationships with existing patients. One of her favorite things to do here is getting to know new patients and starting conversations with them to make sure they feel as comfortable as possible. She is funny, caring, and always supportive of our patients, no matter what they need.
Amanda's dog is her fur baby, and they love to spend time together. She enjoys going on adventures with friends and family, such as hikes and trips to new places as well. She also LOVES coffee!
---
Lela
Office Manager
When it comes to dentistry, creating meaningful connections with people is Lela's top priority. She is responsible for the management of all financial aspects of our practice, processing insurance claims, and creating meaningful connections within our community. Her background in hospitality industry where she oversaw property sales and marketing for Hilton and Marriott hotels helps her ensure our patients are treated with the best possible customer service and care. Lela absolutely loves the teamwork in our office and the respect that everyone has for one another. She feels lucky to come to work with happy people who love where they work and seeing smiles everywhere she turns.
Outside of work, Lela enjoys traveling, spending time with her daughter Ana Alexandra, and creating memories with family and friends.